Top 10 Favorites
I have done a lot of reading in my life so narrowing down my Top 10 Favorite Books was rather difficult.  However, in compiling this list, I thought about the following questions:
Which books have moved me?
Which books have stuck with me over time?
Which books made me look at life differently?
What books do I recommend to others time and time again?
And with that, here are my Top 10 Favorite Books of All Time.  (they are in no particular order–that would be far too difficult!

)
1.  The Poisonwood Bible by Barbara Kingsolver — I sometimes tell my students that there are books that are written so beautifully, so masterfully that we wish we had written them ourselves.  The Poisonwood Bible is one of these books.  I remember first being drawn into the story of missionary Nathan Price, his wife and four daughters back in high school.  Set in the Congo, knee-deep in political turmoil and upheaval, the four girls and their mother, Orleanna, alternate in telling the story of their mission and how their journey to Africa impacts each one of them.  This is a compelling, powerful and emotional read.  Sadly, my words do not do this book justice but I simply cannot recommend this novel enough.  It is a modern day classic.
2.  Summer Sisters by Judy Blume — A far cry from Tales of the Fourth Grade Nothing and Superfudge, this is a novel that is meant for young adults and older.  The novel tells the story of a friendship between two girls, Victoria (Vix for short) and Caitlin.  Each summer, Victoria spends the summer with Caitlin's family on Martha's Vineyard.  The reader follows the two girls as they grow up – experiencing love, hard decisions, loss and heartbreak.  What is so powerful about this novel is that the relationship between the girls is so richly defined that it is almost a character in itself.  I first read this novel, as a teenager, while on vacation at the shore.  We stayed in a beach house with several novels on its old book shelves.  I picked up Summer Sisters and spent the entire day reading.  Since then, I have read it at least five more times.  These are characters and a story that you are going to want to return to again and again.
3.  Walk Two Moons by Sharon Creech — I think, perhaps, I am a poet at heart because I have a soft spot for books with beautiful language.  Walk Two Moons is the story of Salamanca Tree Hiddle, a 13-year old girl who is in search of her mother who left suddenly almost a year before.  She embarks on a road trip from Ohio with her quirky and caring grandparents.  Their destination:  Lewiston, Idaho, the place from which her mother did not come back.  Through the road trip, we come to know a rich cast of characters, both through their encounters and the stories Sal tells along the way.  A wonderful story about love, loss and self-discovery, this complex novel is a must read.
4.  The Giver by Lois Lowry — This is perhaps the first novel I read in the genre of speculative fiction way back in grade school.  Now, the genre is one of my favorites, paving the way for my love of books like The Hunger Games and The Maze Runner.  This book follows the story of Jonas, a young man who lives in a society in which they can't see colors, don't feel true feelings or emotions, everything is controlled but everything is perfect.  When a child turns 12, he or she receives a job at the annual ceremony.  Jonas' job is different; he is to be the new receiver.  This job assignment sets in motion events in which Jonas must examine his reality and decide if a perfect life, devoid of pain and suffering is worth the cost.  Lois Lowry is a true master storyteller.  I tell my students that this is a book that they will read again and again.  Each time they read it, they will bring different life experiences to it and understand it in an even better way.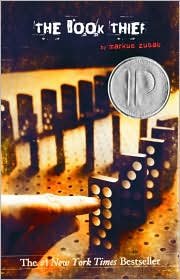 5.  The Book Thief by Markus Zusak — A truly unique and remarkable novel.  Narrated by an all-knowing, but sympathetic Death, this novel is about a young girl named Liesel Meminger who must go live with foster parents after her brother dies and her mother is taken away as a Communist in Nazi Germany during WWII.  With the love and support of her foster father, Liesel learns to read and along with her new found skill,  discovers the power of words.  The characters in this book are richly drawn and the book examines so many deep issues – love, what it means to be a hero, war, and family.  I truly believe that this should be required reading for all high school students as it shows the best, and the worst, of humanity.
6.  Number the Stars by Lois Lowry –  This is the second time that Lois Lowry is making an appearance on my favorites list.  She is such a versatile author!  Ten-year old Annemarie Johansen and her best friend Ellen Rosen live in WWII era Denmark.  The girls know much of the realities of living during wartime with soldiers on the street corners and the ever present food shortages.  However, the war becomes very personal when soldiers come for the Rosen family, who are Jewish.  The Johansens work to protect Ellen by pretending she is one of the family.  Annemarie also must channel the courage of Denmark's beloved King Christian when the Rosen family's life is in immediate danger.  A wonderful story about bravery, friendship and the power of people to do good when faced with insurmountable odds.
7.  Holes by Louis Sachar — "There is no lake at Camp Green Lake."  So starts a wonderful tale of adventure, mystery and self-discovery.  Stanley Yelnats is cursed; rather his family is cursed due to his "no-good-dirty-rotten-pig-stealing-great-grandfather."  After shoes from the famous basketball player, Clyde Livingston, fall from the sky, Stanley is accused of stealing them and is shipped off to Camp Green Lake, a detention facility for boys.  Sachar's quirky sense of humor and talent for creating unique, likable characters (like Stanley, Zero, Armpit and Kissing Kate Barlow) is evident throughout this novel.  There are multiple story lines in this book but they all come together wonderfully.  This book addresses many issues relevant to today's youth – friendship, acceptance, racism, self-discovery, confidence.  A fantastic book.  I love it; my fifth graders love it.
8.  Jellicoe Road by Melina Marchetta – What is it with me and Australian authors?  I LOVED Jellicoe Road when I read it a year ago, and I cannot wait to read it again. This is a very complex, engaging novel.  It was the kind of novel that you read at a break-neck pace and when you are not reading it, you wish you were.  I became so invested in the character of Taylor Markham who was abandoned at the age of 12 on Jellicoe Road.  Five years later, Taylor is at a boarding school where a yearly territory war between the Townies and Cadets has begun.  On top of this, Taylor is having conflicted feelings about Jonah Griggs, a boy from her past, and Hannah, who is like a mother to Taylor, has disappeared.  This novel has two intersecting story lines and you must be patient, because you are not going to know what is going on at the beginning.  However, your patience will be rewarded as this is one of the most satisfying, enjoyable books I have read.
9.  The Hunger Games Trilogy by Suzanne Collins – Imagine North America in the future.  A brutal civil war has taken place and now the Capitol has split the country into 13 districts.  To remind the districts of their control, the Capitol, led by Snow, holds The Hunger Games.  Two children from each district (a boy and a girl) are drawn to enter a televised fight-to-the-death.  This is the world that Katniss Everdeen lives in.  When her beloved sister, Prim, is chosen to take part in the games, Katniss elects to take her place, setting off events that will eventually lead to a revolution with Katniss as the Mockingjay- a symbol of rebellion and freedom.  I absolutely was enthralled by this trilogy and felt that The Hunger Games and Catching Fire were especially strong.  While there is romance in these novels, the trilogy is so much more than that.  It is an exploration of one girl trying to survive, to save her family and to discover what freedom and revolution truly mean.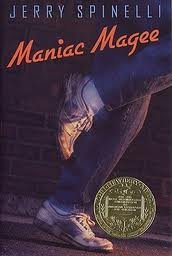 10.  Maniac Magee by Jerry Spinelli – Jeffrey Lionel Magee is orphaned at a young age after his parents die in a trolley accident over the Schuylkill River.  Jeffrey is sent to live with his aunt and uncle, who hate each other but refuse to divorce.  Eventually, Jeffrey breaks down and runs away to a racially-divided town called Two Mills.  There are several subplots that make up this novel, which weave together in a rich literary tapestry.  Like with the novel Holes, I love the characters that Spinelli creates – Amanda Beale who carries a suitcase full of books, Grayson–the park groundskeeper and former baseball player, Maniac (who is allergic to PIZZA!), and Mars Bar.  This tale is told as a legend and brings up important questions about race, friendship and the ability of one genuine person to change the lives and perceptions of others.