Teacher Feature: Novel Scavenger Hunt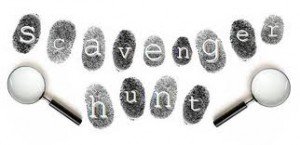 Gail Godwin said, "Good teaching is one-fourth preparation and three-fourths pure theatre." I would have to say that to some extent, I agree with this quote.  It is so important to portray concepts, ideas, and books to students with a high level of enthusiasm, engagement and drama so that they students "buy-in" to what they are learning.  One way that I have built excitement for a class novel study is by using a scavenger hunt to help introduce the book selection.  A book scavenger hunt is easy to create!  Recently, my students read Holes by Louis Sachar as a class novel.  Here is what I did to create a scavenger hunt for this book:
1.  Identify and jot down symbols, characters, and settings from the book. For Holes, I jotted down sand/desert, holes, shoes, camp, X-Ray/Zero/Armpit, palindromes, Clyde Livingston and onions.  This list will help you create your clues.
2.  Choose areas around your school where students will be able to go find the clues. For my scavenger hunt, students went to the cafeteria, library, gym, office and outside of my classroom.
3.  Write your clues. Your clues should combine a "piece" of the book and where the student should travel next.  For example, I set a big bin of shoes outside the gymnasium.  Inside one of the shoes was a little baggie filled with Clyde Livingston "autographs" that the students could take and the next clue.  Here is the clue that they received at that station:
Inside this basket here
You will find a lot of shoes
Find the one used for sports
And you just might find some clues!
From here go to the place
Where novels and magazines take up space.
Outside the room lies a big book
Open it up and take a look.
4.  Prepare a physical symbol that students can take from each station to help them guess what book they will be reading. For our Holes study, students took a small scoop of sand, paper cut-outs of onions, x-rays, and zig zags, Clyde Livingston's autograph and the definition of palindrome.  Each student had a zip-lock bag that he or she could put the physical symbols in.  This bag later was used to store each child's novel study materials (book, response journal, etc.)  and students glued many of their clues into their response journals as they later recognized their role in the book.
5.  Find a space for students to spread out their clues and guess the title of the book. I had my students write their guesses on a note card along with their reasoning.  I had some really crazy and hilarious answers like "Race Car Driver Clyde Livingston's Broken Arm."
6.  Plan the big reveal. I have done this in a couple of different ways.  I have created a bulletin board with the book cover and the blown-up items from the book and covered it with a sheet.  Once all students have returned and ventured their guesses, I reveal the bulletin board.  This year, the literacy teacher and I buried small versions of the Holes cover in sand and had the students dig for the answer.
And there you go!  It is so easy to create a novel scavenger hunt, and your students will love being book detectives.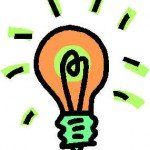 Helpful Hints: I would stick to about 5 or 6 clues for the hunt and split students into teams of four or five.  I worked with our literacy teacher on this activity.  It was nice to be able to have two people out in the building helping to monitor the students, answer questions, take pictures, etc. so I would suggest enlisting a helpful volunteer.

If you have any questions about the novel scavenger hunt or would like a copy of the one I created for Louis Sachar's novel Holes, let me know!  My students loved this activity (in fact, they asked if we could do this for every novel we read), and I know that your middle school students will enjoy it, too!