Some updates…
A Special Thank You
First, I want to thank Jenny @ Supernatural Snark for my wonderful blog header.  Not only is Jenny an excellent book reviewer but she is also a fantastic designer!  She actually designed my wedding invitations and last year's Christmas cards!  Check out her blog.  She is hosting a giveaway today so you might even win something!

Classroom Library Tour
Next, I wanted to give you a glimpse into my classroom library.  I have been building this library for over six years–as a present for graduating college, my mom helped me start this library with a gift of books from the Scholastic Warehouse and I have continued adding to it ever since.  I believe that it is so important that children have access to a wide variety of quality literature at all times.  One student said today, "Mrs. M, I think you have every book in here!"  It was a bit of an exaggeration but I like to think that I have a great library for the kids.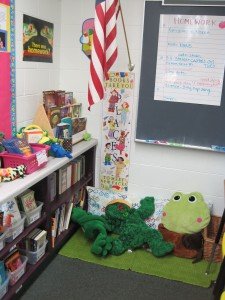 Welcome to my classroom library!  The picture above is the reading corner.  The reading corner has a large body pillow from Target with a slip-cover for easy cleaning.  I also have several large frogs that I have collected over the years that the students love to lay on.   The reading corner is large enough for two students.  I would love to have a larger reading space but with 35 kids in my class, space is at a premium.  To the left of the space, you see a reading display where I put out my current favorites or "hot" 5th grade reads.  In the tubs, I have books arranged by genre for easy browsing.
I have 5 sets of book cases in my room that house my book collection.  (in addition to the built-ins)  I have had many different shelves over the years but I found that the ones that have lasted are the ones that my husband and I have built ourselves.  Inexpensive bookshelves from places like Target or Wal-Mart just don't stand up to a group of children who love to read.  Each shelf costs about 35 dollars to make, and the shelves are very durable!
I wanted to include a close-up of the fifth shelf.  Each year, my school has a silent auction benefit to support the students and the church.  Every grade level makes something for the silent auction.  This past year, the students each wrote a quote about their favorite books, characters or authors.  Then, a parent volunteer decoupaged the quotes onto the shelf along with pages of an old book.  When the parent volunteer brought the shelf in, I fell in love!  It was so wonderful to read how books and reading had touched each student's life.  After the auction was over, I was so shocked when the bookcase came back.  A generous parent had purchased the shelf and donated it to my classroom.
What I am Currently Reading
As I anxiously await The Scorch Trials by James Dashner, I am reading The Ghost of Crutchfield Hall by Mary Downing Hahn (one of the best authors out there for middle grade readers) and The Danger Box by Blue Balliett.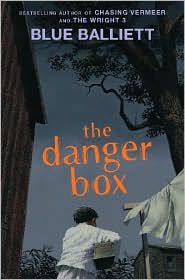 In 5th grade, we just finished our first read-aloud, Frindle by Andrew Clements and are now enjoying Savvy by Ingrid Law.

Join me tomorrow as I participate in my first Blog Hop.  Also, I have a neat giveaway coming soon. Happy Reading!