A Pressing Issue…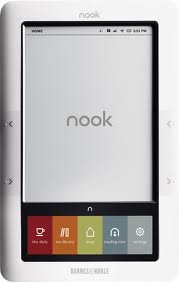 Alternative title: Why I am Furious with (some) Book Publishers
For my birthday back in November, I received a Barnes and Noble nook from my husband.  I had always been a lover of books – the smell of them, the feel of the pages in my hands, the weight of them, the covers.  Simply put, I love books, and I love to read.  However, after one too many vacations in which half of the weight of my suitcase was due to books, I knew something had to give.  Enter technology.  I went over to the dark side and got an e-reader.  There is lots that I love about my nook – the immediacy of downloading novels, the compactness of it, the fun covers, the ability to take an entire library of books with me wherever I go.  However, one feature that I especially loved was the lending feature.  I realized that not all books were lend-able.  One look, though, at the books that were like Anna and the French Kiss and Matched, I was sold.
Here's the thing.  One of the things that I love, LOVE about reading is talking about books with other people.  I have a book blog for goodness sake.  I am a READING TEACHER.  I talk about books ALL DAY!  And when I talk about books, I like to get people excited about them, so much so that they want to read the books we are talking about.  Then, I loan them my copy, and I am happy.
Well, before Christmas I talked up Matched by Ally Condie the other day with my junior high writing group.  Some of the students had just read The Giver, and I suggested it as an awesome companion novel.  After Christmas, I had a student excitedly return from break telling me about her new nook.  She asked if I could loan her Matched.  I was happy to do so!
However, when I attempted to loan it to her, I got an error message.  Odd.  On my nook it said it was lend-able.  Then, I tried again.  Still, I got an error message so I did some digging; to say that I was not happy with what I found out would be a gross understatement.  I discovered that many major publishers are no longer allowing their books to be loaned – even when at one time they were loan-able. Let's take a quick look at the list of books I have purchased thinking that they were able to be loaned that are no longer loan-able:  Matched, Anna and the French Kiss and The Jumbee.
This may not seem like a big deal to you – however, when I purchased these books, I was under the impression that I was going to be able to share them with my friends.  To tak
e this away, without even so much as an announcement from any party, is wrong.
I understand that people need to make money, believe me.  And I help those publishers make that money – I have over 1,250 books in my classroom library, all purchased by me.   I have my own personal library as well. I support reading; I support books.  I just can't fathom why certain major publishers would take away the lend-me feature on their books, the ability to share a book with others.  Sharing an e-book is so similar to sharing an actual hardcover or paperback, except that I can loan the same hardcover or paperback out to a lot more people in the time that I can loan one e-book out.  This move just doesn't make sense to me.
What are your thoughts on this?  Nook users, were you aware of this? I am just really sad that certain publishers have taken away my ability to share books with others.  I won't stop buying books or loving books; however, it is sure going to make me look at certain companies in a different way.
**Soon, I will be posting my review of the fabulous Flash Burnout by L.K. Madigan!  And I promise I will be back to my happy self.**