I hope that everyone had a safe and happy New Year's Eve and will have an even better 2011.  Yesterday, I shared with you the first five of My Ten Best Reads of 2010, including my all-time 2010 favorite, North of Beautiful by Justina Chen Headley. The Top-10 list was incredibly hard to make as I read so many wonderful Young Adult and Middle Grade Books this past year.  What a great year for reading

Mockingjay by Suzanne Collins
I remember the first time I was thrust into the violent, desolate world of Panem in The Hunger Games.  After reading the first few chapters, I was drawn into the story of Katniss, a brave girl who ultimately became the face of a revolution but at heart just wanted to protect her family and their happiness.  The story of Katniss is all at once beautiful, terrifying and life-affirming.  While Mockingjay was not my favorite of the books(a spot reserved for Catching Fire), I thought that it was a fitting, though sad, conclusion to this finely crafted trilogy.  This trilogy will sock you in the gut but you find yourself asking for more.  A powerful and important read about love, loss and war.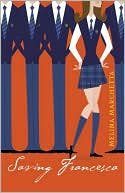 Saving Francesca by Melina Marchetta
Melina Marchetta is a true master of the young adult genre.  Even more so, she is a true master of conveying the human experience and emotion – her writing is spot on.  Realistic, emotional, smart, deep.  Saving Francesca is a beautiful novel that examines what it means to grow up and to grow into who you are meant to become.  Francesca and Will are one of my very favorite relationships, and the characters Marchetta crafts stay with you long after you have closed the book.  I can't wait to revisit these characters when The Piper's Son is released in America in March.  I can only hope that more American readers will discover the magic of Melina Marchetta's novels.
Not That Kind of Girl by Siobhan Vivian
Girl power?  Well, Natalie Sterling's got it – president of student council, driven, motivated – nothing is going to stand in her way, especially boys.  Girl power?  Spencer's got it but definitely in a different way than Natalie.  Spencer is used to using her body and attraction to get what she wants.  This novel explores feminism, the expectations of young women and the roles that they are supposed to play.  The characters are wonderfully flawed, and the novel doesn't leave us with any easy answers.  However, it does leave the reader with the sense that women need to stop judging themselves, and others, so harshly and that we must fight against the titles and roles that others put upon us and just be ourselves.
Looking for Alibrandi by Melina Marchetta
Well, surprise, surprise!  Another Melina Marchetta book on my list.  What a shocker…
The exploration of different types of relationships, what it means to be an immigrant, the character growth.  There is nothing about this novel that I don't love.  And Jacob Coote.  Just read this book and try not to have him steal your heart.  I hope that all of you will read this book, and it will make your favorite reads list for 2011.
Out of My Mind by Sharon Draper
Out of My Mind is the only MG selection on my Top 10 list for this year but it is well-deserving.  The spirit and spunk of our protagonist, Melody, is reason enough for this book to get a place on the list.  However, if you need more reasons to read this book, look no further than the masterful writing, the realism, the richly-defined characters and the message of hope and acceptance.  All of my students that have read this poignant novel loved it as well.
I would love to know your favorite book from 2010!  Tomorrow, look for a recap of my Christmas break reading (I think I am at 8 books) and the winner of four fantastic Melina Marchetta novels.
PS .  Can I just say that I am now obsessed with Simone Elkeles' novels?  Anyone with me?